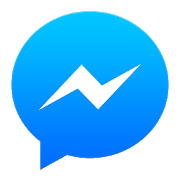 18.33 MB
Compatibility:
Android
2.3/3.0/3.1/4.0/4.1/4.2/4.3/4.4
Updated : 05/09/2018
Facebook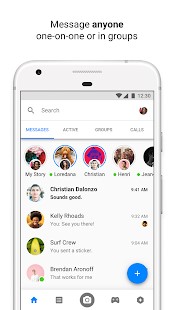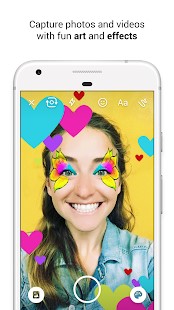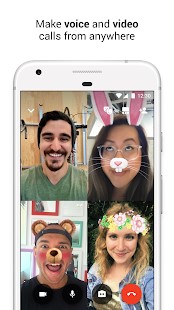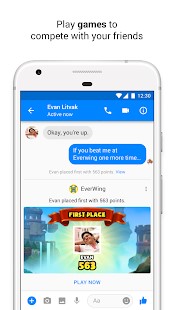 What are you talking about…
Description
New version of Messenger now focuses on selfies and leaves Whatsapp eating dust
Facebook Messenger is Zuckerberg's instant social network communicator, a simple and straightforward channel for you to chat with your friends privately. Messenger also lets you create group conversations and has a number of extra tools to enhance chat.
In addition to writing text messages, Facebook Messenger lets you send your contacts freshly taken photos, pictures from your device's gallery, emojis (drawings), voice messages and emoticons, all with just one tap.
Features and organization
Facebook Messenger is still able to make calls to other contacts through your carrier's data network or via WiFi. You can also check if the person is online or when the user was last logged in, and silence notifications, view the Facebook timeline, a map of where the person is, and the phone number.
Facebook Messenger is divided into four main tabs: the list of all your individual conversations, the list of all your group conversations, the complete list of users who use Messenger and who are currently available for chat (either on PC or desktop). smarphone) and general settings.
Our opinion about Facebook Messenger
Facebook Messenger is the Facebook app that lets people chat privately, both individually and in groups. Through it, you can send text, photos, gallery images, voice messages, emojis and emoticons, all with just one tap.
The fifth version of Facebook Messenger comes with enhancements that will make your conversations more instant than ever. Now you can send any type of message with just one touch, ensuring incredible agility for your chat within the messenger. Check out.
Messenger x Whatsapp
Facebook knows that interaction between people personally or through restricted groups is the new social aspect of the moment. So much, that eventually acquired Whatsapp for 16 billion reais.
But it is a mistake to believe that Facebook Messenger will copy features from Whatsapp: The program is treading its own path, with innovations that do not appear in the "competitor" and that should leave the newly acquired program eating dust.
The first change that significantly differentiated the two programs was the ability to connect via data network or WiFi brought to Facebook Messenger - something that Viber has made available for some time, but has not yet reached Whatsapp.
Now, with the 5.0 update, Facebook Messenger takes another step towards winning the hearts of Whatsapp users by focusing all their attention on instant selfies. In addition, you can share images with a single button between messenger internal contacts.
All with just one touch
If you previously had to add content to messages and then send them, with Facebook Messenger you just need to take a picture, choose an image from the gallery, an emoji or create a voice message to send it to your contacts. instantly.
It changes everything! Facebook Messenger's most striking change is sending photos taken with the camera. The old messenger path was a via crucis: clicking on the old clip icon, then camera, then taking the picture, attaching it to your message, and finally clicking the send button.
Now all you have to do is click on the camera-shaped icon and take the picture to have it sent to your contact or group. This change from Facebook Messenger is clearly focused on the new trend of taking selfies, the self-portraits that have infected the world.
Worth it?
A few punctual things were left out in the fifth version of Messenger: the camera function now has no automatic black and white and sepia effects, but it will by no means be missed.
However, the images are now smaller in landscape format, taking up half of the area that was captured in previous versions of Facebook Messenger. Internet photo search has also dropped out, and this may bother some users.
One of Facebook Messenger's biggest shortcomings is that it does not allow users to send messages offline, just as it does in Whatsapp. If you have no network, the app will reject your content, forcing you to resubmit it when you reconnect to the internet.
But overall, it is clear to see that Facebook Messenger has surpassed Whatsapp with its practicality and functionality. The program is fast, lean, with a minimalist and elegant design, and with interesting and useful functions.
Pro & Cons
Pro
Minimalist interface

Send text and audio messages, photos taken on the spot, and one-touch emojis

Make calls via data network or WiFi

Create and join group conversations
Cons
Photos are now smaller in landscape format

Internet photo search no longer exists

Black and white and sepia effects no longer exist on camera

Cannot send messages offline
Reviews Facebook Messenger