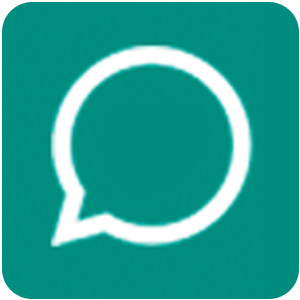 27 MB
Compatibility:
Android
3.0/3.1/4.0/4.1/4.2/4.3/4.4/5.0/6.0/7.0/7.1
Updated : 13/12/2021
HeyMods Team
What are you talking about…
Description
An alternative version of WhatsApp with extra features and similar functionality
GBWhatsApp is an alternative version of the WhatsApp messenger that incorporates several new functions to the messaging application and makes its use even more functional. The application boosts existing features and offers several new possibilities to the popular Zap.
To begin with, GBWhatsApp has all the functions already available in conventional WhatsApp, with the difference that in GBWhatsApp it is possible to use more than one account in the service. You can still add custom themes that not only change the conversation windows (like in WhatsApp), but the whole look of the app.
With GBWhatsApp you can still edit your status in a different way, allowing a larger number of characters to be added. The app has options that block and change the way you're notified in your messages, leaving the messenger usability more discreet.
There are several new features that make the use of the WhatsApp network much more complete. And the best: all your contacts are kept with the data presented in the same way as in the standard messenger.
Replacing WhatsApp with GBWhatsApp
When using GBWhatsApp, the official WhatsApp app crashes until you log in to the service again. Your open chats in the official messenger do not migrate to the alternate version, so back up the conversations or do not uninstall the official messenger app to keep them safe.
Our opinion about GBWhatsApp
GBWhatsApp is an alternative and improved version of the WhatsApp messenger. The app uses the same network and aims to offer more features within the same platform. The GBWhatsApp interface is almost identical to WhatsApp, but some more functions are found in the menus.
The mode of use should not cause problems for those who already use the official service. Small differences in functions will make a difference even for very specific uses.
One of the main advantages of GBWhatsApp is to allow 2 WhatsApp accounts to be accessed on the same device. Especially for those who use dual sim phones, the feature comes in handy quite handy.
GBWhatsApp is a good alternative for anyone making more advanced use of WhatsApp, and the only thing that can become a problem is the app can not mirror conversations that are in progress in the official app. Most of the features are very interesting and can do with having a better experience with the messenger.
Pro & Cons
Pro
Simple to use

Interface similar to the official app

New features very useful

Multiple account access
Cons
Does not bring open conversations in WhatsApp