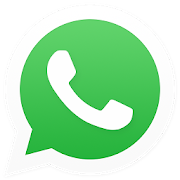 15 MB
Compatibility:
Android
2.3/3.0/3.1/4.0/4.1/4.2/4.3/4.4/5.0/6.0/7.0/7.1
Updated : 25/11/2020
WhatsApp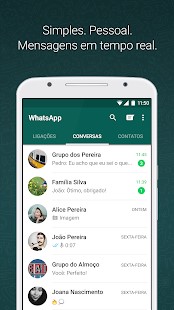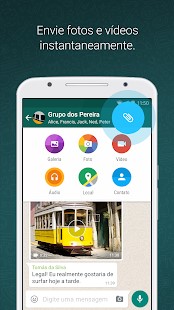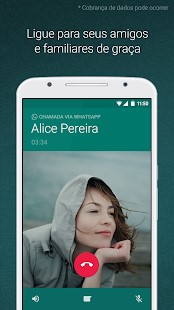 What are you talking about…
Description
WhatsApp: Now also with voice calls for everyone
WhatsApp Messenger is an instant messenger that lets you exchange messages with your friends in an extremely objective way.
One of the main revolutions brought by smartphones is the fact that such devices can keep us connected virtually all the time. Interacting with others virtually makes it a much easier task, too.
Inspired by the old SMS sending model, WhatsApp Messenger has as its main function a tool that allows you to send text messages quickly to almost all your contacts.
Talking to everyone
To facilitate this work, he uses the real phone number as identification, ie here you do not need to create accounts or connect using Facebook, for example. Just register your number, have the phone that will be the destination of the messages and, of course, that this contact also uses the messenger.
To increase its use, WhatsApp Messenger comes with several tools that allow its best use. You can create groups with multiple contacts and turn the conversation into a real permanent chat room, for example. For those who think the texts are not enough, the program allows you to send images and files, record videos and send them through its interface or share your location with anyone you want.
To please those who don't have time to type, the service has also recently incorporated recording and sending voice files. That way, instead of typing instructions on how to update your device to your parent, for example, you can simply audio-record all the tips, which makes it easier and faster to send more complex messages.
It is also worth remembering that WhatsApp Messenger is a multiplatform tool, ie it has versions for the most famous mobile operating systems in the market, such as Android, Windows Phone 8 and iOS. So you are sure that you can chat with all your friends!
How to enable the service
After installing WhatsApp Messenger you need to register your gadget with the service. To do this, simply enter your phone number in the appropriate field, including the area code without 0. In a moment you will receive a message confirming the registration and you can use WhatsApp normally.
Accessing WhatsApp on Your Computer
After many requests from multiple users, WhatsApp has finally released the official computer version of instant messenger. For you to use the desktop service, you need to do a little procedure and have the latest version of the app installed on your smartphone. Devices running Android, Windows Phone, BlackBerry, and Blackberry 10 can use the service on your computer.
First, you need to go to https://web.whatsapp.com exclusively from Google Chrome and scan the QR Code with WhatsApp itself. Importantly, your smartphone must be connected to the internet with the app linked to your phone number. Here's an example of the desktop feature: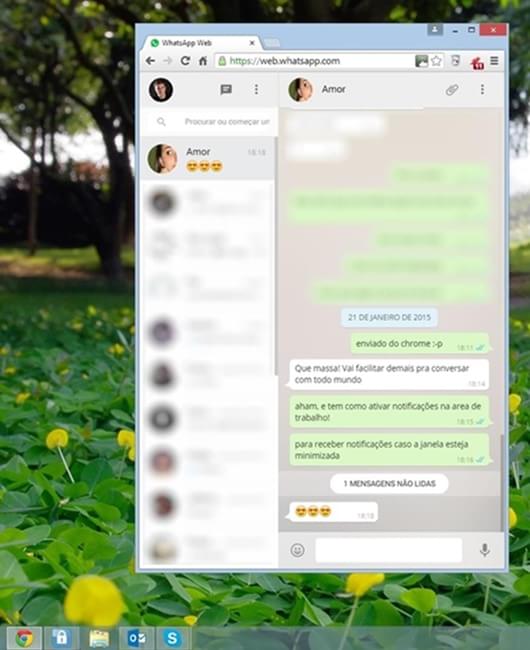 In other words, for now there is no way to use only WhatsApp through the browser, you need to have the app on the device as well. At this time, you can only use this feature through Google Chrome. If you wish, you can set your browser to receive desktop notifications when messages arrive.
In-app calls
Finally Whatsapp has released to all Android users the function of making voice calls. This way, you can contact any of your contacts, generating a new (yet no cost) alternative to traditional text conversations.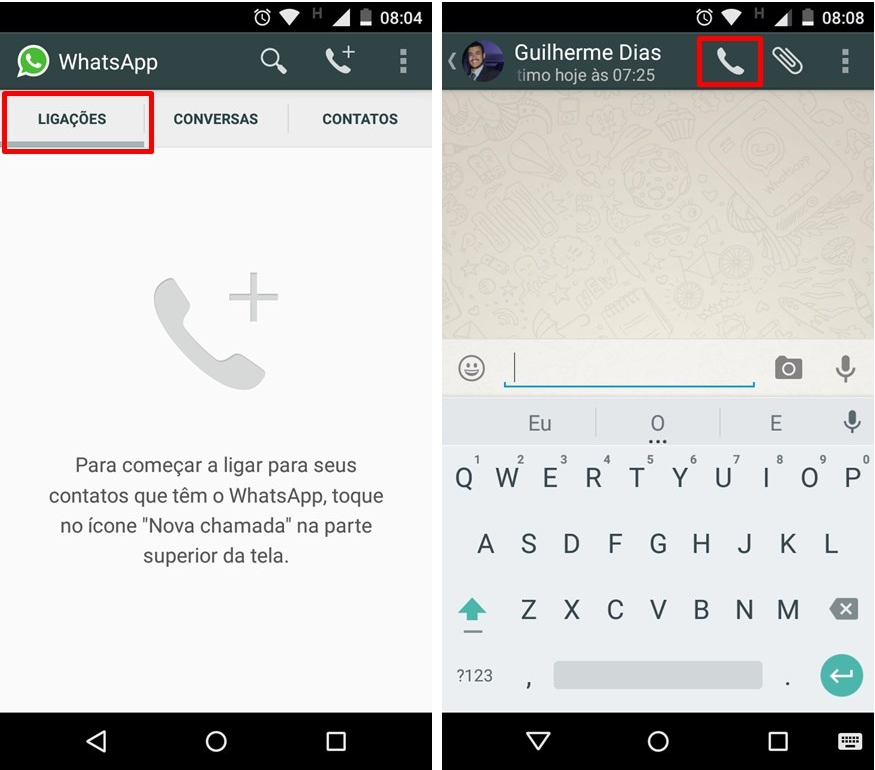 You will notice that the WhatsApp interface on Android is a bit different. A "Calls" tab has been added next to "Conversations" to separate voice and text calls. There is another way to start a call: for chat involving messages with contacts that are added to your friends list, just click on the phone icon.
Our opinion about WhatsApp
WhatsApp Messenger is an instant communicator designed for smartphones that comes to make messaging with all your contacts much easier and faster. With over 300 million active users, the app emerges as one of the most complete and simple options available on the market.
The number of people using the service is justified by its huge breadth and compatibility, since it is available for almost any platform, whether you are using Windows Phone, Android, BlackBerry or iOS, for example.
By your own number
One of the strengths of WhatsApp Messenger is that it uses its own telephone number as identification. Thus, its use is very similar to that of traditional SMS, except that it uses the internet and still has many more sophisticated features.
The program interface is user friendly and extremely easy to operate. On your first login, it can pull all contacts from your phonebook that also use the service, so you can now know who you can chat with using WhatsApp Messenger.
Faster than an SMS
Exchanging messages is as easy as using any other program feature. File, image and video sharing functions, for example, can be accessed by a shortcut at the top right of the screen. Thus, everything happens dynamically and without any difficulty.
When formulating your messages you can use various interesting tools, such as a huge list of emoticons of various types, for example. In addition, links and shortcuts can also be shared easily.
Group Conversations
Group conversations are extremely useful, especially for companies with outside teams who need to be in constant contact. Groups of friends can also make use of the tool and, in short, you are able to send photos and videos to everyone without any restrictions.
The new version of the program also aims to make it easier to exchange audio messages. To do this, just hold the button with the microphone symbol and start talking, that is, the developers followed the success line of other applications to make sending audio as easy as the one seen in the written messages.
WhatsApp Update on Computer
One of the features most wanted by WhatsApp users has finally arrived: the ability to use the app from their computer. Android, Windows Phone, BlackBerry, and Blackberry 10 device owners can now make use of the functionality without restrictions, but conversations can only be accessed through the Google Chrome browser.
As expected, the feature is very easy to use, and with just a few quick procedures (such as scanning the QR Code that is displayed on the site) you can enjoy the service - you don't have to install anything on your computer. Thus, it became much more convenient to talk through the app through this shortcut, and all the features present in WhatsApp can be equally used in the desktop version.
Finally, voice calls
Another feature that finally came to Whatsapp is the voice call, much requested by those who use the application. You can now make free calls over the internet to anyone who is also registered for the service by tapping the phone icon within the contact window.
The call quality is very good, but it will also depend on the connection you and your receiver are using. If both are on the same WiFi, it will be very good; if both are using 3G, the quality may be drastically reduced.
The interface has also changed, and the app gains an area similar to the phone's call history, with all calls made, received and missed. This has made the program more organized, especially for those who want to use and abuse the new feature.
Pro & Cons
Pro
Allows sending messages with photos, videos and even geolocation information

Uses phone book data to list who uses the service

Supports group chats

Great usability

Easy upload of audio recordings

Comprehensive and allows you to chat with users from other platforms.

Uses phone number as base

Make free calls over the internet
Cons
We didn't find any negatives.