Avira Free Antivirus
Version 15.0.43.27
Free
204.82 MB
Updated : 11/08/2021
Avira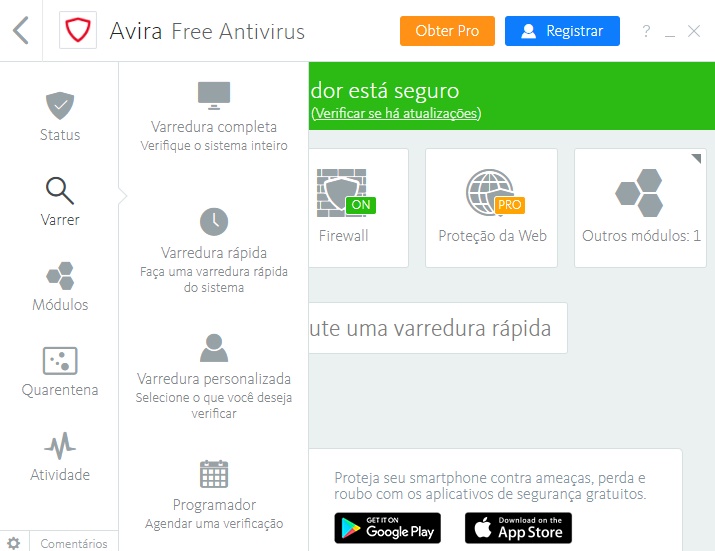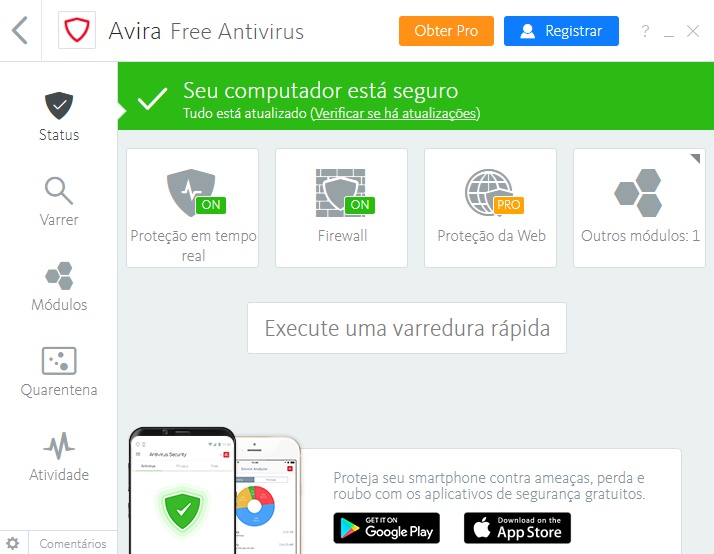 What are you talking about…
Description
Protect your PC against virtual pests with a free and highly respected antivirus
Avira Free Antivirus is one of the most traditional and respected antivirus products on the market.
Available a few years ago, this program has attracted a large number of fans combining uncomplicated functionality and reliability in their scans.
To keep your computer protected from malware threats and attacks - including viruses, spyware, phishing, and adware - the application provides powerful tools for monitoring, identifying and removing virtual pests. All this in real time.
Download and Installation
In Baixaki, you download a file that works just like the Avira installer. When you run it, the program initiates the transfer and then carries out the implementation of the protection software.
It is worth mentioning that the application offers and installs by default complementary tools, but that have no relation with its operation. If you do not want such additional content to be applied to your PC, be sure to uncheck the check boxes for them.
When Avira is run for the first time, all available database updates are performed. It is also recommended to do a general sweep on the system to make sure there is nothing wrong and then just leave the program monitoring everything by yourself.
Safety first
As soon as you open the Avira Free Antivirus home screen, you are presented with a summary of the current security situation of the machine. In this screen, mechanisms are available that indicate whether the PC and internet protections are active and if the firewall is turned on, as well as providing shortcuts to start the database update or a complete scan of the system.
By accessing the scanning menu, you can find a wide variety of other scanning options, such as files from a certain folder, only Windows directories, drives connected to the computer, running processes, and more. In the real-time protection section, you can still check the amount of analyzed content and whether any breaches, threats or malware have been found.
As with most antivirus programs, Avira Free Antivirus also provides resources for scheduling automated activities, a quarantine location for suspicious files, and a history of all actions taken. The differential of this program is the provision of a function to monitor everything your children do on social networks, such as Facebook, Google+ and Twitter.
Sharing Information
Recently, Avira has decided to integrate its products more efficiently. To do so, the company has created a kind of exchange to share information among the different software brand you enjoy. This starts with the control panel offered in the Notification Area, next to the clock.
Here you can open the antivirus, as well as request the download and installation of the browser protection devices, system acceleration, personal data encryption and device discovery in case of theft. In addition, a shortcut to your online account is available.
In turn, in this profile, it is possible to manage and visualize some details of the software of the company in use. In the case of Avira Free Antivirus, relevant recent events are listed (such as a detected virus or a potential threat sent to quarantine) and necessary actions, including updating the database and a complete scan of the system.
For those who want even more protection
This is the free edition of Avira antivirus. Thus, it is worth mentioning that some of the features present in the interface of Avira Free Antivirus can only be used by subscribers of its paid version. This happens, for example, with the browser's security feature and the email protection tool.

If you enjoy the features of the antivirus products produced by Avira and want to have complete protection for your computer, click on the banner above (or here ) and enjoy buying the direct software with Avira - and with a special Baixaki discount.
Our opinion about Avira Free Antivirus
If you are looking for a way to protect your computer against attacks by malware and cybercriminals, it is only fair to give Avira Free Antivirus a chance. This program is one of the more traditional alternatives to this, and such respect of the market has not been won to chance.
Visual refresh, but functionality maintained
Avira Free Antivirus has undergone considerable changes in its interface, which has become simpler and more minimalistic. Visually, it remains comprehensible both for being organized and for being fully translated into Portuguese, that is, the assimilation of its functioning happens in an uncomplicated and pleasant way.
Despite the visual redesign, the program has kept the resources efficient and practical so that its web browsing is protected, as well as the information stored in the PC remain far from the reach of virtual plagues and malicious people.
Total integration
One of the problems with this free version of Avira is the limitation of resources. Here you do not have parental control, for example, that allows parents to have more control over what their children access on the web. This feature is important and would undoubtedly add value to the application, but unfortunately it is offered only to those who purchase a license.
But if something is missing, integration with Android is present and defined as something positive. The features that can be accessed through the laptop keep your PC safe and increase control over the tool, something always valuable for those who want to avoid major inconveniences.
Another point that can help is working together with a security bar for the browser. This extends the reach of Avira and guarantees a few more details in favor of the privacy and safety of your navigation, all without causing any inconvenience to the user.
In action
The installation of Avira Free Antivirus remains simple, and the database update system also, ensuring efficient hunting time and eliminate any kind of threat. As for the performance of the program, we have nothing to complain about.
During our tests, the application demonstrated stability, and all the tools performed the expected functions. When it comes to scanning speed, we should point out that this performance parameter can vary greatly depending on the number and type of files kept on the PC.
In our case, the complete scanning of the system took approximately 20 minutes. It was not the fastest analysis we have ever seen, but we can not say that it was the most time consuming. In addition, Avira Free Antivirus does not seem to be so demanding when it comes to hardware.
Some software and certain Windows processes may become slower when running a scan, but nothing to worry about. Perhaps, machines with more modest configurations can feel the weight of their execution and make it impossible to use other programs, but this would also happen with other antivirals in the Avira Free Antivirus category.
Pro & Cons
Pro
Variety of settings available

Friendly interface

Various options for computer scanning
Cons
Many options blocked in the free version
Reviews Avira Free Antivirus