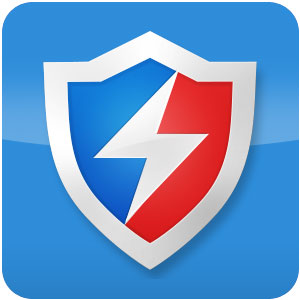 Baidu Antivirus Free 2015
Version 5.4.3.147185
Free
1.76 MB
Updated : 05/04/2019
Baidu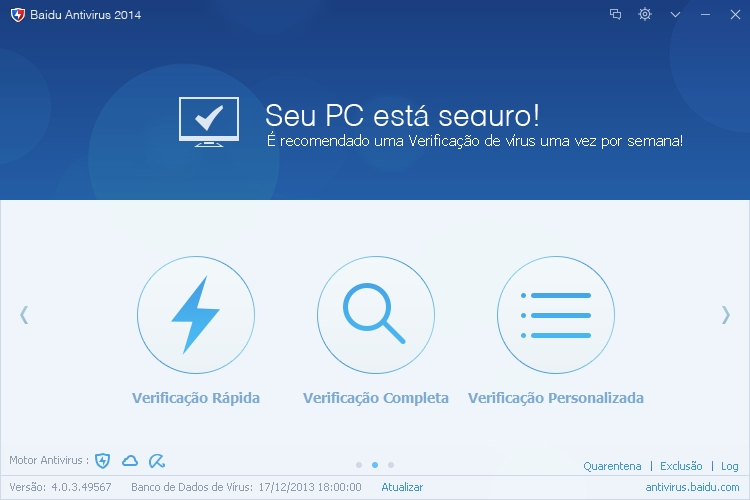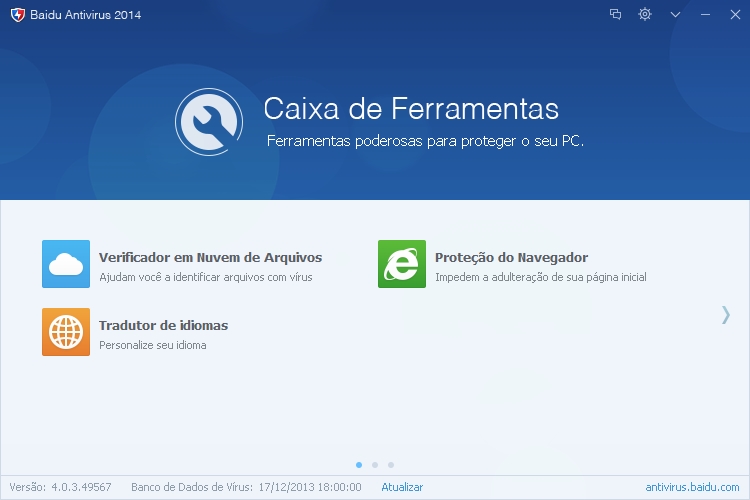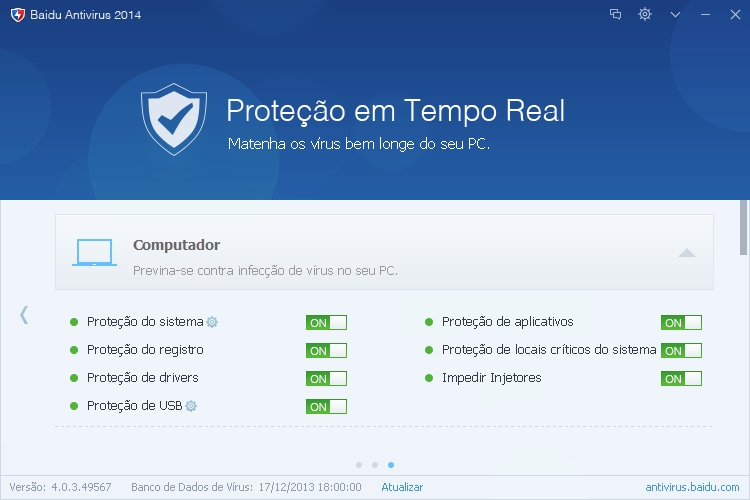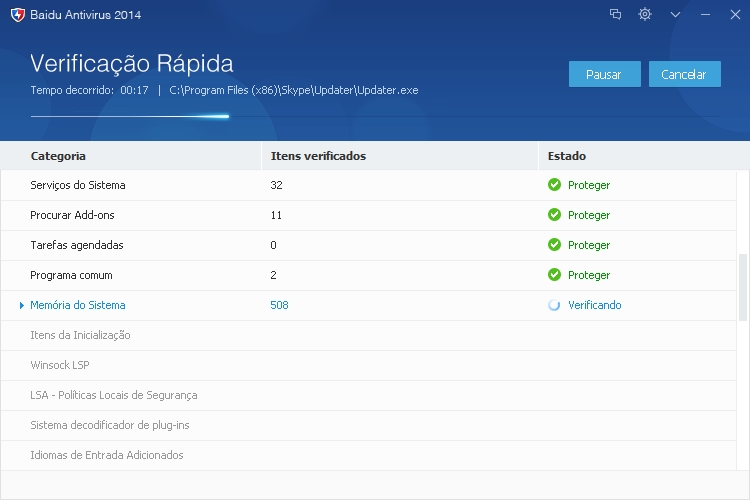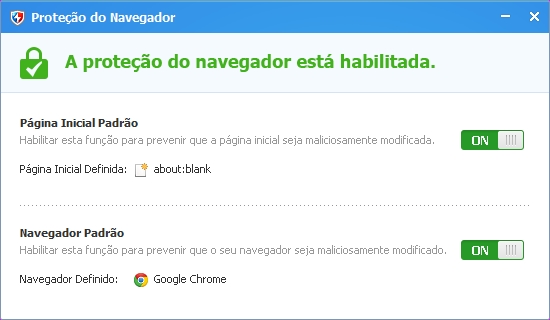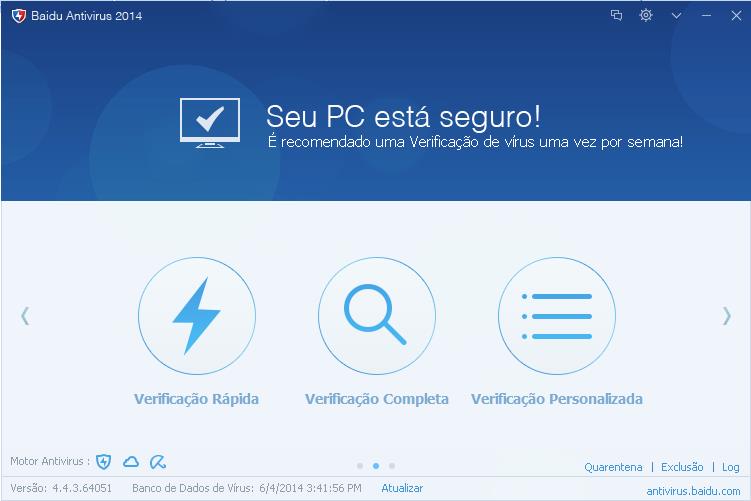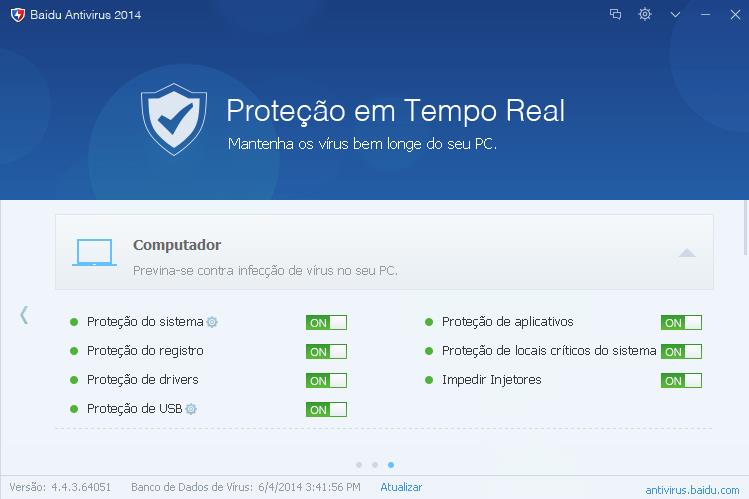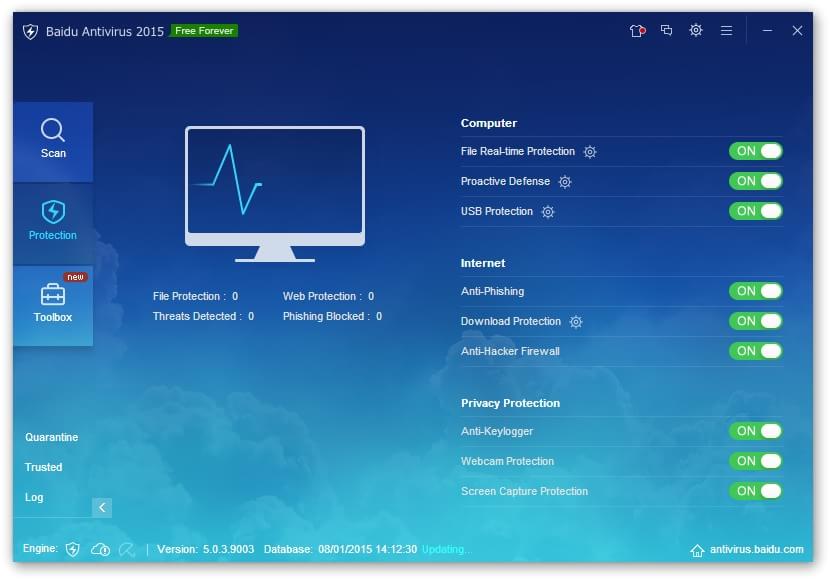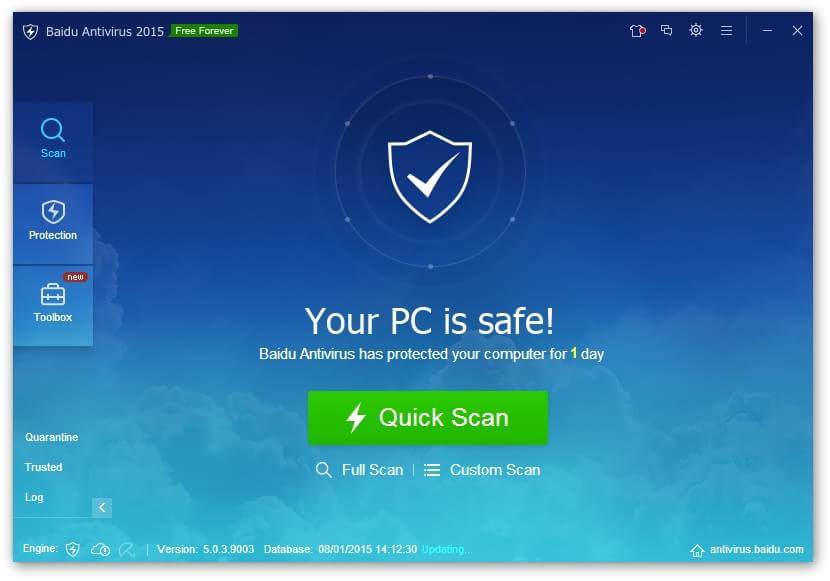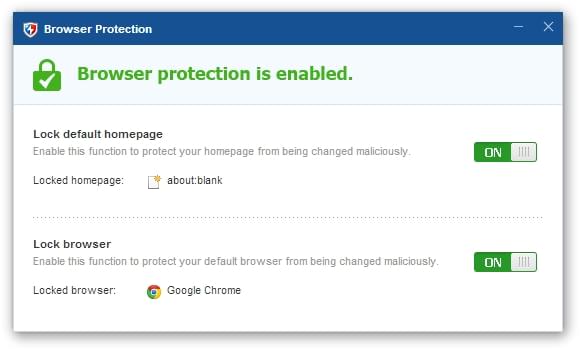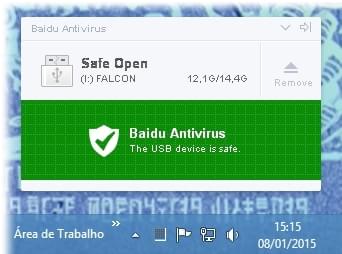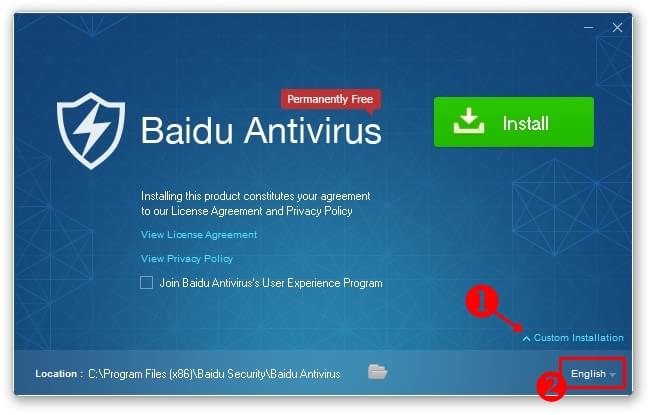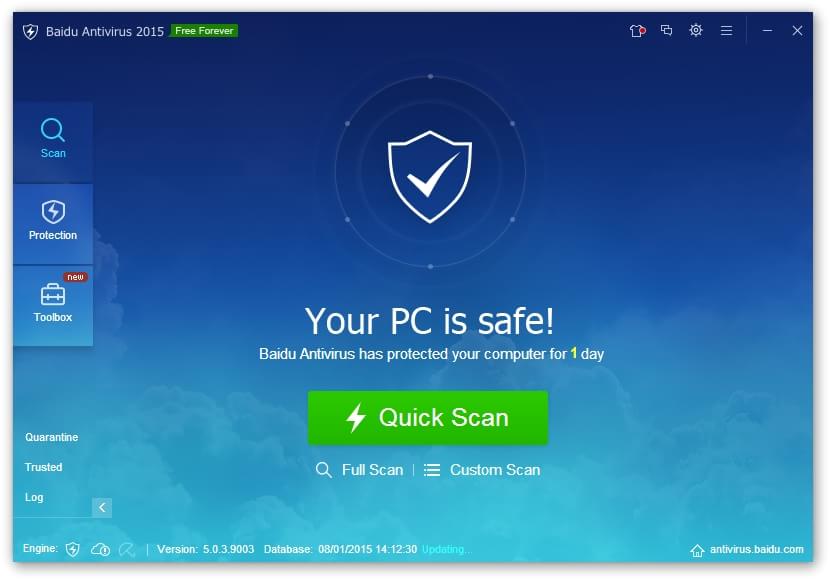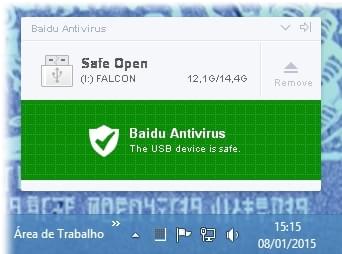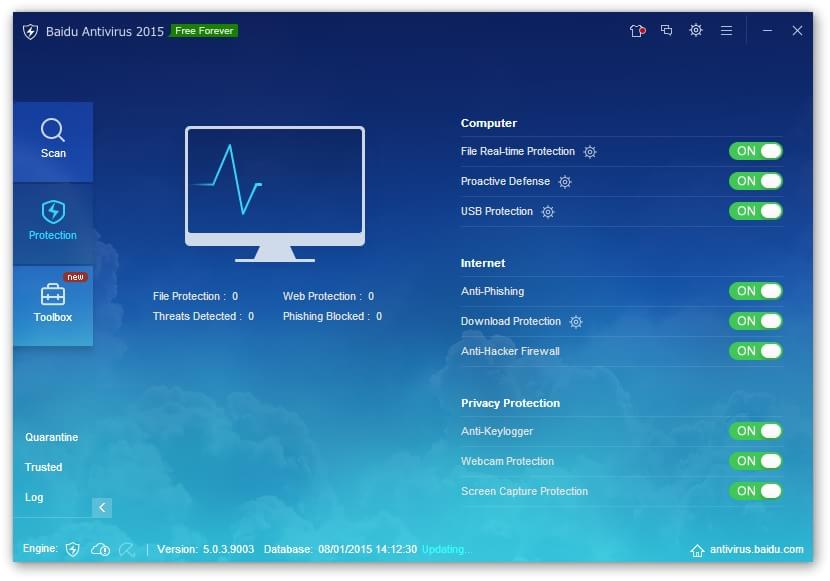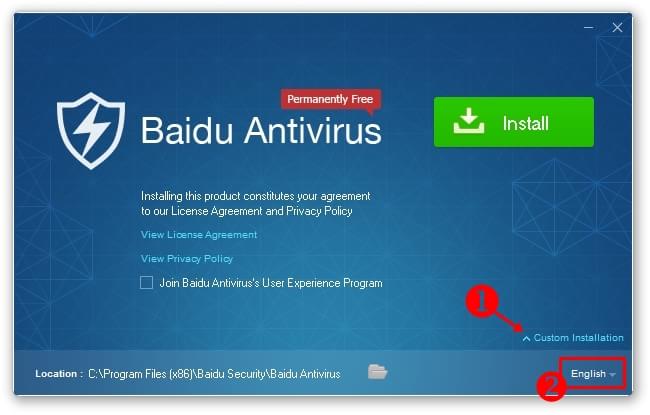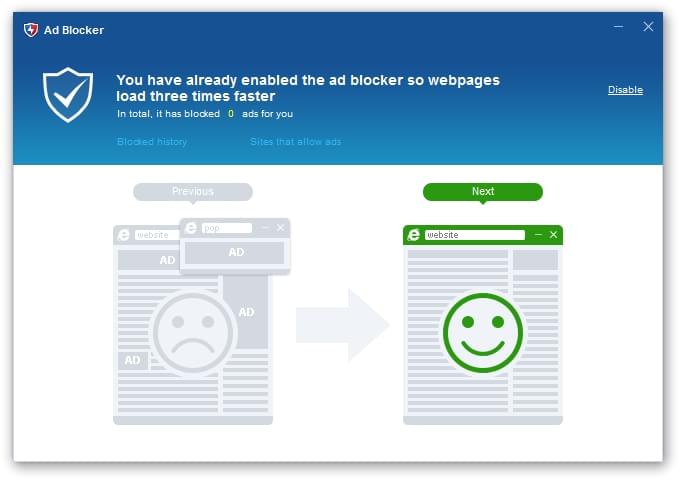 What are you talking about…
Description
Baidu Antivirus is 100% free and protect your computer from viruses and malware.
Baidu Antivirus is a complete and completely free protection software that will protect your computer against threats and virtual pests.
The main difference of Baidu Antivirus for its competitors is that this application is completely free, meaning you don't have to pay extra to access the most advanced tools, as in other programs of its kind. Here, everything is available from the beginning.
Baidu does not restrict the program's most advanced functions, nor does it require prior registration in order to obtain an activation license. Baidu Antivirus can also be installed on as many computers as you like, whether at home or at work.
Baidu Antivirus is free with three main scanning modes. All three are designed to find malicious programs on your computer, but each one works in its own way. See what each one does:
Full Scan: This is the safest mode of all. It serves to analyze all the contents of your computer, including all hard disks and programs installed in the machine;
Quick Scan: Here are analyzed only critical computer locations, such as folders, startup and system memory, among others. Baidu recommends using this option weekly;
Custom Scan: Here you can choose what to scan . You can select entire disks or just folders from your computer.
If all else fails or if your computer is already infected to the point of malfunctioning, the solution is to use System Repair through the application's Toolbox. This feature (which is even more efficient in Baidu Antivirus 2015) helps repair the damage that a virus has caused to your system by checking for possible broken areas.
Three check engines
Baidu Antivirus works with three different search engines. Thus, it is as if you had at the same time three antivirus installed on your computer, one complementing the other. So if by chance one engine misses something, the other two are ready to recognize malicious code.
The first engine is Baidu itself, developed by the antivirus creator. The second is Baidu Cloud, a cloud security service. The third engine is Avira, the same as the antivirus of the same name.
Remember that the Avira engine is not enabled by default. To enable it, click the umbrella icon in the lower left corner of the screen and select the "Enable" option in the frame that appears.
USB protection
One of the most common methods of virus transmission between computers is USB stick and USB disk sharing. To ensure the safety of your machine, as soon as you connect such a device it is automatically scanned by the software.
Baidu Antivirus also opens a thumbnail-shaped icon in the taskbar and the colors of the software every time you plug a USB key into the machine. Clicking this icon opens a list of options, including the ability to safely disconnect the device, scan the drive again, or access the USB protection settings.
Within the settings screen, you can completely turn off USB verification or switch between normal mode, which displays the USB stick icon on the screen after the end of the scan, or automatic, which displays the contents of the drive on screen as soon as the scan is completed. performed.
Targeted Security
You may also want to analyze the contents of a flash drive directly through Windows Explorer. To do this, just right-click on the drive icon and select the Baidu Antivirus scan option.
This feature can also be used for file analysis independently, such as an item you just downloaded and left on the desktop. Just follow the same procedure: right click and enable scanning with Baidu Antivirus.
The program interface allows you to carefully select the items you want to protect on your computer. You can enable each independently, including internet services, browsers, and downloads.
It is worth noting that one of the three engines available in Baidu Antivirus is cloud based, meaning you can upload your files to Baidu servers for efficient scanning.
Full scan
Baidu Antivirus has a real-time protection system that is active at all times to ensure the security of your computer. This means all open or running files will be scanned on time.
This protection model has three levels: Fast, which is a little less secure but consumes little system resources; Standard, which offers more security; and Strict, which forces all files to be scanned, but may consume some system resources.
The check style of items can also be set. From the options you can select which formats you want to scan: all files or just executables and documents, which are the most threatening item types.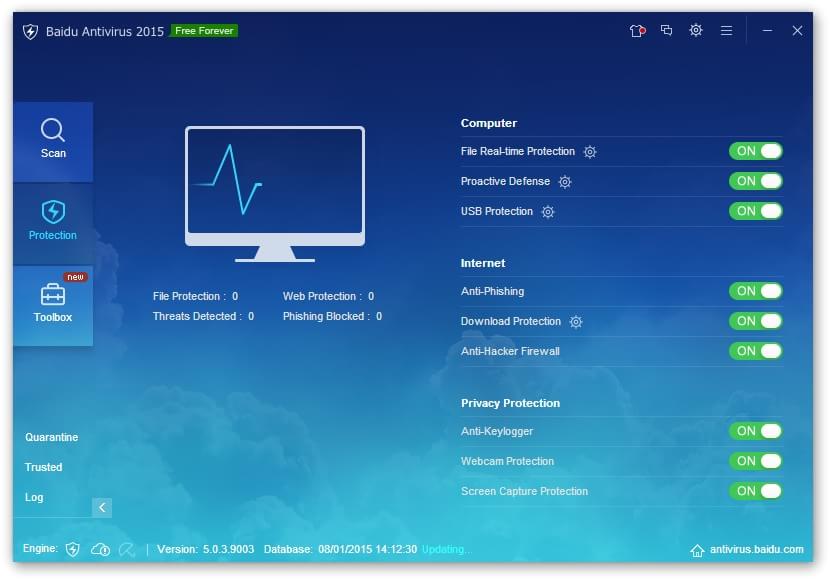 You can also define actions when detecting threats. You may receive an on-screen message, and choose how you want to solve the problem, or set it all automatically - recommended option for those with little computer and malware experience.
Remember that Baidu Antivirus does not delete any data from your computer. All potentially harmful files are sent to quarantine, and you can restore them later if you wish. To know which files have been changed, simply access the Log, which is on the main screen of the software.
To ensure security, the application is updated frequently over the internet. You can check if your installed software has the latest virus definitions by looking at the bottom of the main screen: there is the date and version of the database, as well as a button for manual updating.
Web protection system
With Baidu Antivirus, you get several additional security tools. One is internet protection which includes a complete protection system for web pages, downloads and especially browsers.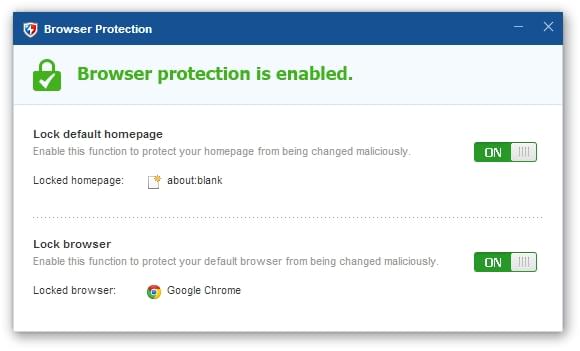 When you click to activate the browser protection switch, a window appears on the screen showing which browsers are installed on your machine, and allowing you to change the browser homepage.
In addition to blocking changes by other applications, Baidu Antivirus 2015 also protects you from harmful plugins for your browser through the Malicious Plug-in Cleaner tool. Using it is extremely simple, just run the software and it does everything else on its own.
If you want even more security when surfing the internet, Baidu Antivirus has the option Traffic Monitor. This, as the name implies, allows you to accurately view, in real time, the state of your connection, including data such as your network traffic.
Down to the advertisements!
If you, like many, also suffer from too many advertisements and banners showing up on web pages, be aware that Baidu Antivirus comes with a powerful tool to help at these times.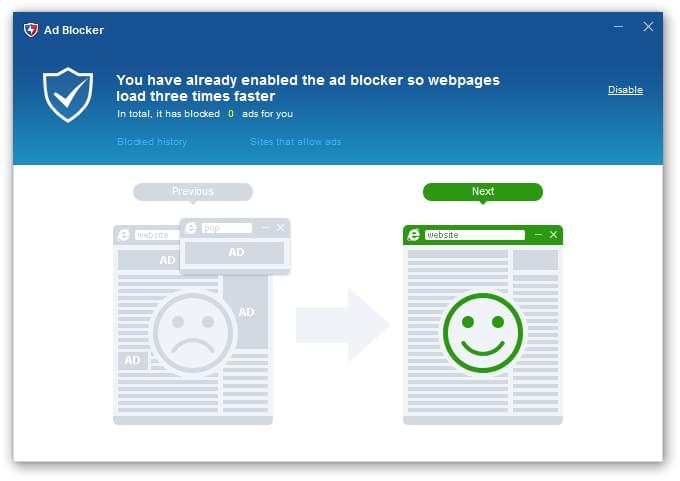 To access it just open the Ad Blocker option, available in the Toolbox tab: by clicking the Enable button, the software will monitor your pages and automatically stop the loading of advertisements. By doing so, accessing a page not only becomes a cleaner experience, but also faster, so sites open up to three times faster.
Certifications
There are currently a number of specialized security vehicles that offer certifications for commercially available antivirus software. One of them is Virus Bulletin, which awarded Baidu Antivirus the VB100 seal, attesting to its quality. AV-Comparatives also achieved a 99.6% file detection test rate.
The software has also received OPSWAT certification, which ensures compatibility with many other services used in many industries. Baidu Antivirus is also present in Virus Total, Google's service that scans your files online.
In English only, for now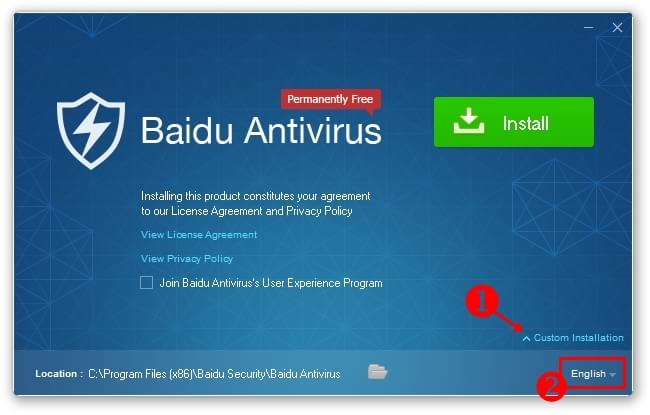 Baidu Antivirus has been known for some time to be a service available entirely in Portuguese. The 2015 version, however, is not yet available in our language - trying to download and install the software in Portuguese only brings Baidu Antivirus 2014.
So, to access the latest antivirus update, be aware of the beginning of the installation: in the screen shown in the image above, select the item "Custom Installation" (1) and from the list of available languages (2) choose the option "English"
Our opinion about Baidu Antivirus Free 2015
Baidu Antivirus is a very reliable security system. The tool provides a number of scanning options, including for removable devices and Desktop, and has three protection engines: one of its own, one local, one based on the Baidu Cloud service, and one provided by Avira. That is, enhanced security to ensure that no pests threaten your system.
On the official website, the company guarantees that the software is permanently free, and will continue to do so. This is one of the biggest differences from Baidu Antivirus to the major competitors available today, which offer basic functions for free but charge access to the most advanced features. And this feature counts a lot in favor of Baidu and should be considered when choosing the antivirus.
In our tests, the antivirus was very stable, with no problems to run, exaggeration in false positives and things we usually see in other software of its kind. Thus, we can say that the Chinese giant got it right with Baidu Antivirus and created a very efficient tool that should please even the most demanding.
New-faced and better than ever
If Baidu Antivirus's interface was already impressive before, we must admit that the company has outdone itself with the 2015 version of its software. As before, the program highlights its main functions on the main screen and leaves the others within easy reach via tabs; now, however, this is done much more stylishly, thanks to the even cleaner and more modern design of the app.
Changing the old look to the new look, in fact, does not seem to be just an aesthetic issue: thanks to the tools and icons that closely resemble those seen in the operating systems of our current smartphones, configuring antivirus has become an even more user-friendly experience. intuitive compared to the appearance of common programs.
Looking good is not everything if program is not efficient; but fortunately this is not the case with Baidu Antivirus. Thanks to the improvements brought by the developer, the 2015 version of the software performs full analysis of a medium performance computer and 500 GB of space in just over twenty minutes, even with several other applications open. A quick scan, in turn, took only two minutes.
Even those who have a low performance computer should have virtually no difficulty running the application. Whatever type of scan was used, Baidu Antivirus did not even use up to 10% of the PC processing power. Then you can use it without fear that it will get in the way of whatever you are doing.
Promising protection, but still needs touch-up
Not to mention that the system works perfectly, it is worth noting that Ad Blocker, one of the most promising new features of Baidu Antivirus 2015, leaves much to be desired. Although it does remove one or another banner, it does not reach the level it promises in your information - usually it only removes one or two advertisements, leaving everything else untouched.
By contrast, the new tool, along with the new network traffic monitor, is a step in the right direction for the software as it begins to cover one of its previous weaknesses. Now it is hoping that it will be corrected as soon as possible because the potential for something like this is great.
Another notable weakness is the Avira's protective motor; or rather the fact that it is not enabled by default in the program. This way, users are required to manually activate it if they want to be triple protected - which, luckily, is much easier to do. This is hardly a problem, but may go unnoticed by less experienced users.
Finally, we also note that the program does not allow you to select specific folders, files or extensions to keep out of scans. This type of exception is useful if the software insists on marking files that are known to be safe as false positives.
Safety first
But ultimately, what really matters is safety. In this area, we noticed that Baidu Antivirus will not let users down. The search engine works fast, and we can do many types of scans in a few minutes, without having problems with false positives or choking on very large directories.
As expected, Baidu has done its job very well, fixing many of the issues with its 2015 version of its antivirus. At the same time, there are a lot of new tools added and a significant improvement in device performance.
So, have no doubt: If you want an antivirus that can protect you from a wide range of threats, be they viruses, malware, adware, plugins and others, Baidu Antivirus 2015 will surely fit your needs.
Pro & Cons
Pro
Multiple scan options

No false positives

Does not consume a lot of system resources

Beautiful and simple to use interface

Three scanning and protection motors

totally free
Cons
Avira scan engine needs to be manually activated

Some more advanced analysis options are still missing
Reviews Baidu Antivirus Free 2015