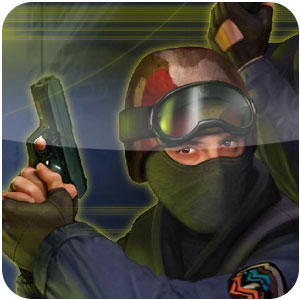 Counter-Strike
Version 1.6
Free for test
370.12 MB
Updated : 26/09/2019
Valve
What are you talking about…
Description
Take out your Desert Eagle and run to find the bomb Counter-Strike is coming back to Brazil
Warning : the Counter-Strike game has no demo for testing. That is, you can only buy a license to have fun with friends in the arena amidst frenzied shootings. The link available in Baixaki is from Steam. Log in to the game manager and, if you like, make the purchase, worth $ 9.99. Here you will find all the tips on how to create a user account, buy games and take advantage of Steam.
He is coming back! In January 2008, Counter-Strike fans were surprised by the news that the sale of the game was banned in Brazil. At the time, CS was cited as "harmful to consumer health" by federal judge Carlos Alberto Simões de Tomaz. But now, more than a year later, the Federal Reginal Court of the 1st Region, in Brasilia, has authorized the return of the commercialization of what is simply the most popular online game on the planet!
The website of the Federal Court of First Region states that it is sufficient to publish only the judgment (that is, a decision of a group of persons, as opposed to the determination of a judge or judge, for example). Electronic Arts, a distributor of the game in Brazil, has not officially pronounced, but has already announced game stores that the CS will return to the shelves without any impediment.
Now enough of legal imbroglios, it's time to plunge back into this extremely addictive clash!
Historic
Counter-Strike is incredibly simple and realistic, and this is perhaps the key to such success. It is a First Person Shooter (FPS) in which two teams face each other, one of terrorists and one of counterterrorism. Clashes take place on varied maps, each with a specific goal for each side.
CS appeared in 1999 as a modification to Half-Life, hence the name Half-Life: Counter-Strike. The original version was a modification of Half-Life and the engine of the two is the same, but the success was so much that today it is announced as an independent game. The following year, Valve, developer of Half-Life, joined forces with the developers of Counter-Strike and version 1.0 of the game was released. The latest version, 1.6, was released in 2003.
Originally, Counter-Strike was played through WON, but in 2004 that server closed and then players had to migrate to Steam (see how to get the game below).
The clash
You must choose the team that will defend between "good guys" and "bad guys". Teams face each other on a map in a series of rounds. The round wins the team that completes its goal or that eliminates all the opponent. The arsenal is extensive, with weapons ranging from pistols to machine guns and grenades.
In each round you can carry a primary weapon, a secondary weapon and some grenades. Each weapon has a specific price and you earn money as you progress through the game. See the list of armaments:
Knife - the famous "facosa" is free and requires very close contact with the opponent, but can kill with one or two blows. Deaths by knife are known as surgery and mockery among players. Cries and expressions such as "NA FAAAAAAAAAAAAAAACA" or "OPERAAAAAAAAAAAAADO" are common after such a death;
Primary weapons - these include long-barreled weapons (powerful at short range but with slow loading), submachine guns (fast and with many shots without the need for loading are most commonly used), rifles (both accuracy for accurate and sequential shots) and The machine gun, better known as Rambo (extremely heavy, with excellent shots at long range and comb of 100 bullets).
A highlight of the category is the MP5 Navy, great weapon for beginners. It has good firepower and is accurate, ideal for anyone who is learning to fire. Players with more experience love AK-47 and M4A1;
Secondary weapons - these are the guns that can save your life in a gunshot where you run out of ammunition for the primary weapon, for example. The highlight goes to the Dual 96G Elite Berettas: a pair of Berettas. They are neither powerful nor accurate, but they make you look very badass !
Joking aside, the real highlight of the pistols goes to the Desert Eagle , better known as Trabuco de Mano! Do not underestimate the power just because this weapon does not have size, because it does damage! It's great for the first rounds of the game, when everyone is short on cash.
Some weapons can only be acquired by a specific team. For example, AK-47 is exclusive to terrorists and M4A1, the counterterrorism. However, a counterterrorist can take the AK-47 from a dead terrorist, for example.
Goals
Depending on the map, teams have to perform a specific task. They can be bomb, hostage or murder. In bomb maps, terrorists must plant one in one of two specific locations, while counterterrorists must disarm it.
On hostage maps, the terrorist team must hold a group of people in captivity, while the counterterrorists must rescue them into a safe area. The murder target is unusual. Only a map is this way. Here, a specific target must be eliminated by terrorists and protected by counter-terrorists.
Maps
Counter-Strike clashes are set in realistic scenarios, each with a definite goal. The two letters before the name of a map indicate the type of target. "AS" indicates Assassination, "CS" indicates hostages and "DE" indicates bomb disarmament maps.
The most popular maps are de_aztec (an archaeological site of Aztec ruins), de_dust and de_dust2 (desert-like scenarios) and cs_rio (an independent map that was created by Brazilians depicting a confrontation in a favela). It is worth remembering that the game was banned because of this map, which is not actually present in the original CS package.
Other official maps:
as_oilrig - the only official map in Assassination mode, is an oil exploration platform;
cs_italy - confrontation in the narrow streets of Italy;
de_cbble - Scotland of Lord William portrayed by good guys and bad guys;
de_nuke - nuclear base that has very intense tactical combat;
de_inferno - the target of the terrorists are two gas pipelines;
de_train : a railroad where two trains are the targets.
Tips
Attentive ears
Sound is very important in Counter-Strike. They are accurate and give hints about where the shots and opponents are coming from. A good sound card can give you an advantage in that regard.
Crouch down and walk
When crouching, your weapon becomes more precise and you become a smaller target, therefore more difficult to be reached. By default, players run across the map, which makes a fool of the footsteps. Therefore, also learn to walk so as not to catch the attention of opponents. These techniques are critical to advancing through enemy territory unnoticed.
Take cover
Use the scenario obstacles to your advantage. Protect yourself with them and use them to reload in the middle of a shooting. But keep in mind that the most powerful weapons in the game are able to traverse these boxes.
Team work
Do not try to be a Jack Bauer or a kamikaze. It is difficult to complete the goals of Counter-Strike without a collective effort. A team is more efficient when its players have varied weapons, each more suited to positioning on the map.
Learn to use grenades
Do not rely solely on arms. Use grenades too, but with awareness, since you can only carry a limited number of them. They offer a great way to open space before invading enemy territory.
Train a lot
Like any other game, practice is your ally. Of course you will be punching bag at first, but a little patience will make it better.
INSTALLATION
The file you've downloaded already contains Steam but you still have to wait for it and Counter-Strike to be updated after the first time they are opened. The following window will appear:
After Steam refreshes, create a new account to use the program:
Enter the account name and password correctly by repeating it in the bottom slot:
Repeat the operation for your email, which must be valid to confirm the registration:
Answer the security question in case of account problems or lost passwords:
Check your data and complete the registration, clicking "Next" and then "Finish":
Ready! Your Steam account is already created, waiting for your games to start.
NOTICE
Counter-Strike is a game inappropriate for under 18s and, although free, it is still necessary to purchase an original product license (Half-Life CD-Key). We do not recommend buying either the stores (physical) or via Steam (digital purchase) until the judgment is published.
Our opinion about Counter-Strike
When we talk about Counter-Strike, it is virtually impossible to find someone who has not played it, either at home or at the famous Frag Nights in LAN houses. The truth is that this is one of the most popular shooting games of all time, able to captivate a very varied audience.
But such success did not occur to chance: even after so many years, the game still maintains the armed combat at a frenetic pace, extremely responsive gameplay and the absurd tactics that require the team working at the same pace. The arsenal is also varied, containing weapons that vary not only in appearances, but which are able to influence all of their behavior during the match.
Of course the graphics have suffered over time, but still, just listen to a "GO! GO! GO! "So that the desire to go running on the Aztec by shooting at all who oppose your team is up at full speed.
If you were a fan, you could soon enjoy a beautiful reunion with the original franchise. If you have never played, your luck, because you will have a new opportunity. But do not miss this chance, Counter-Strike is the kind of game that has an eternal - and much deserved - place in the hearts of gamers around the world. Fun to the extreme!
Pro & Cons
Pro
We did not find any positives.
Cons
We didn't find any negatives.