DAEMON Tools Lite
Version 10.12.0
Free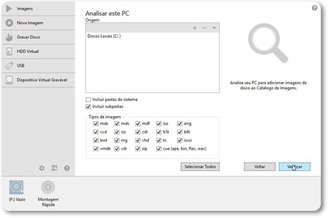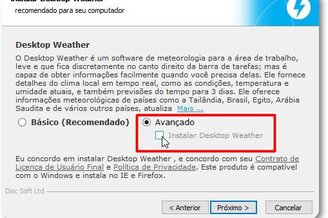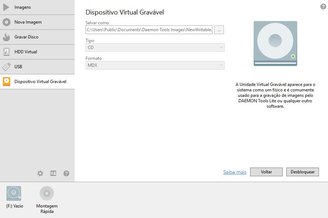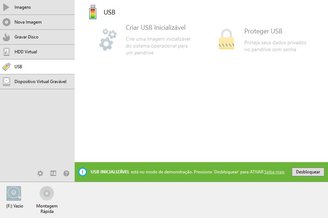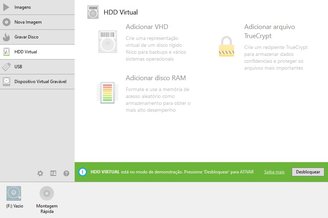 What are you talking about…
Description
Emule CD and DVD drives with one of the most efficient programs in the segment
If you want the full version of Daemon Tools Lite click here to get it at the best price!
Many of today's notebooks no longer have CD or DVD drives. The tool that was mandatory until a few years ago, nowadays has become secondary thanks to memory cards and external hard drives with increasing capacities.
However, you never know when you need to run a file from an external media. DAEMON Tools is a program that emulates CD and DVD drives so that you can run image files without having to install them on your computer.
The application creates virtual CD and DVD drives, "cheating" your system as if there were actually other drives present on your computer. This way, you emulate HD / DVD image files, for example, even if you do not have such a player on your PC.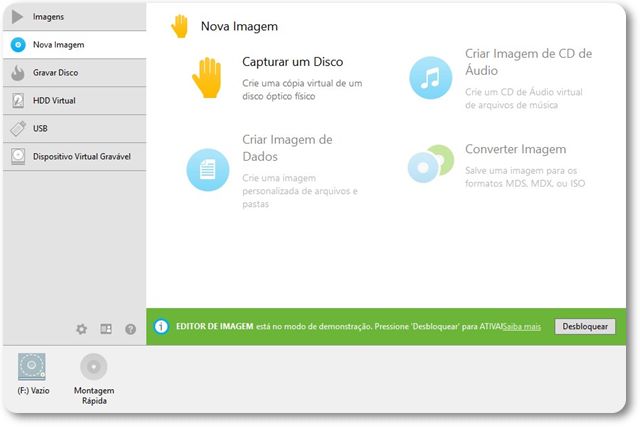 Initial search
As soon as you open DAEMON Tools Lite, a small tutorial is shown, indicating what needs to be done. The new versions of this application have slightly modified the process of creating drives and images, and now it is necessary to search for image documents on the PC before starting to use it.
That way, it creates an automatic "library" of everything on your PC that matches the usual formats of CD, DVD and other disk images. To do this search, choose from the home screen all the extensions that should be searched and then click "Verify". After that, just click on "Images" on the left side to access these items.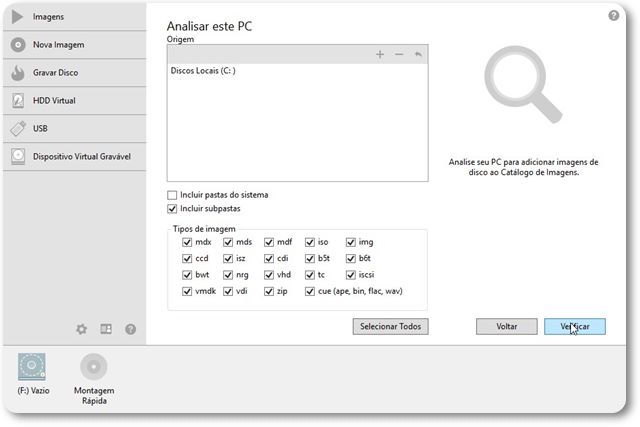 Compatibility
DAEMON Tools, besides being easy to use, is also a versatile program. In all, it is able to identify 19 different image file formats, among them the most common, such as B5T, B6T, BWT, CCD, CDI, CUE, ISO, MDS, NGR, PDI, MDX, ZIP etc.
Another possibility that may please some users is the automatic inclusion of a widget in the Windows sidebar. From there you can access all the functions of the program. There is no option to skip this installation process. However, once started, you can easily uninstall it.
Attention to installation!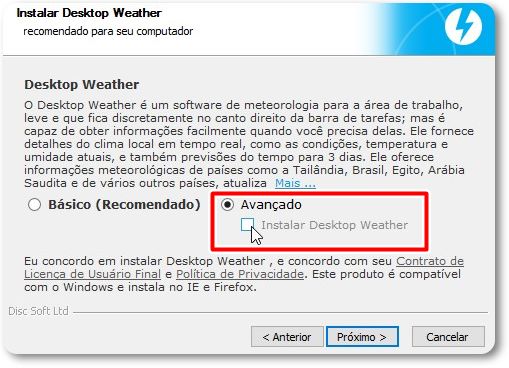 The free version of DAEMON Tools brings one or more app sponsor offers during the installation. This type of offer can fill your computer with useless programs and toolbars, as well as changing browser settings, so it's best not to allow them to be added to your PC.
To do this, keep an eye on while you are installing DAEMON Tools Lite: in one of the screens of this process, it offers an external app and you need to click on "Advanced" to deselect the option of installing additional items, as shown in the image above .
Our opinion about DAEMON Tools Lite
DAEMON Tools Lite is a great alternative for creating backups of discs in ISO, NRG, CCD, ZIP, and other popular file formats. The application was stable during our tests and occupied a very low amount of memory, which makes it an excellent choice for any users.
During our analysis we noticed that DAEMON Tools Lite is one of the most uncomplicated softwares of the genre. It brings a complete tutorial in the beginning, showing exactly how to use it for the most diverse purposes. In addition, this program is in Portuguese and has a good translation - that is, you do not need to speak English to understand what needs to be done.
The integration with the formats surprised us because the user does not have to search the web for a compatible application, since DAEMON Tools Lite indicates which files can be mounted automatically. The initial analysis is a feature that came in the latest versions: it is now possible to create a "library" of image files with just one click.
Remember that DAEMON Tools Lite is ready to work with protected images. So if you happen to perform a backup with a security lock, you can still run it using DAEMON Tools Lite.
Worth it?
During testing, DAEMON Tools Lite was stable, easy to use and very complete. The free version does not come with extra tools or even let you install these add-ons - which can only be tested for a limited time - so you may need to purchase the full application if you want to continue using your publishers and other such items.
Pro & Cons
Pro
Easy to use

In Portuguese

Compatible with 19 image formats

Complete tutorial
Cons
Provides extra programs during installation
Reviews DAEMON Tools Lite