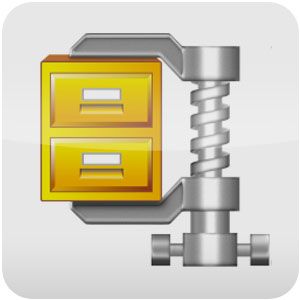 WinZip
Version 22.5 Build 13114
Free for test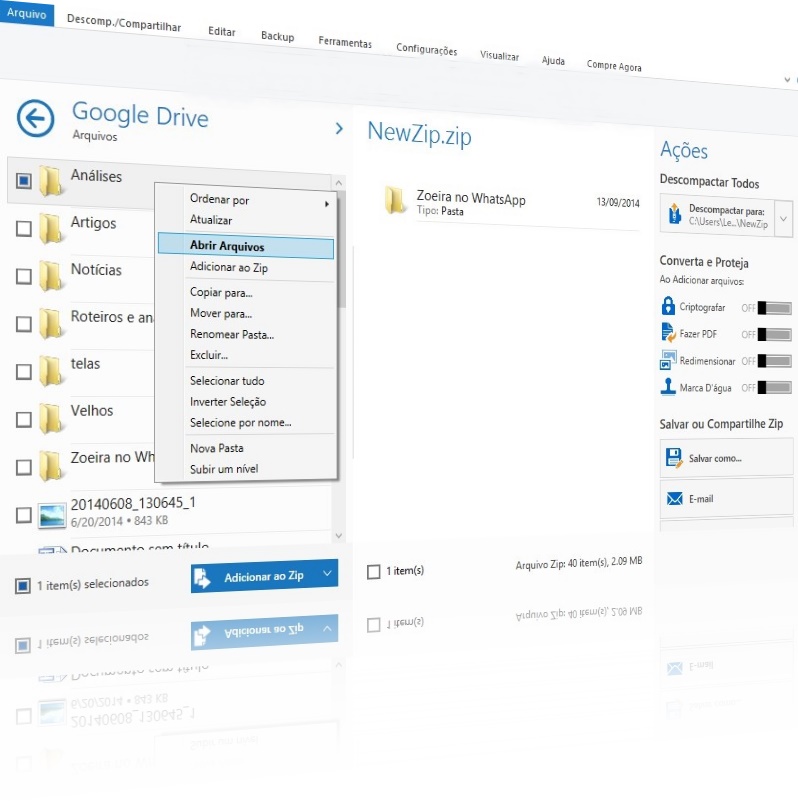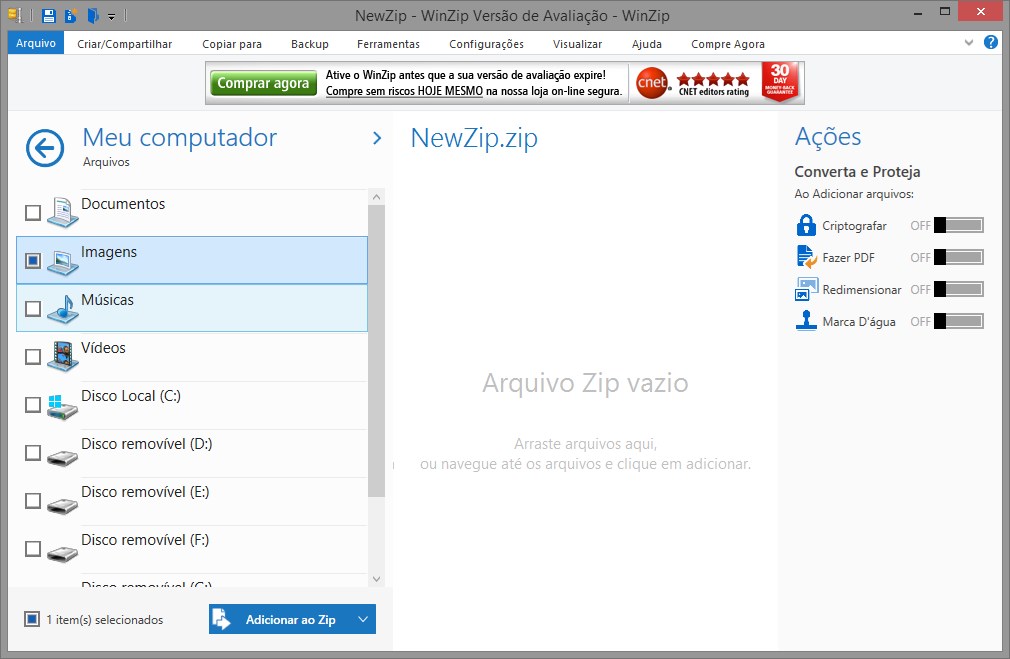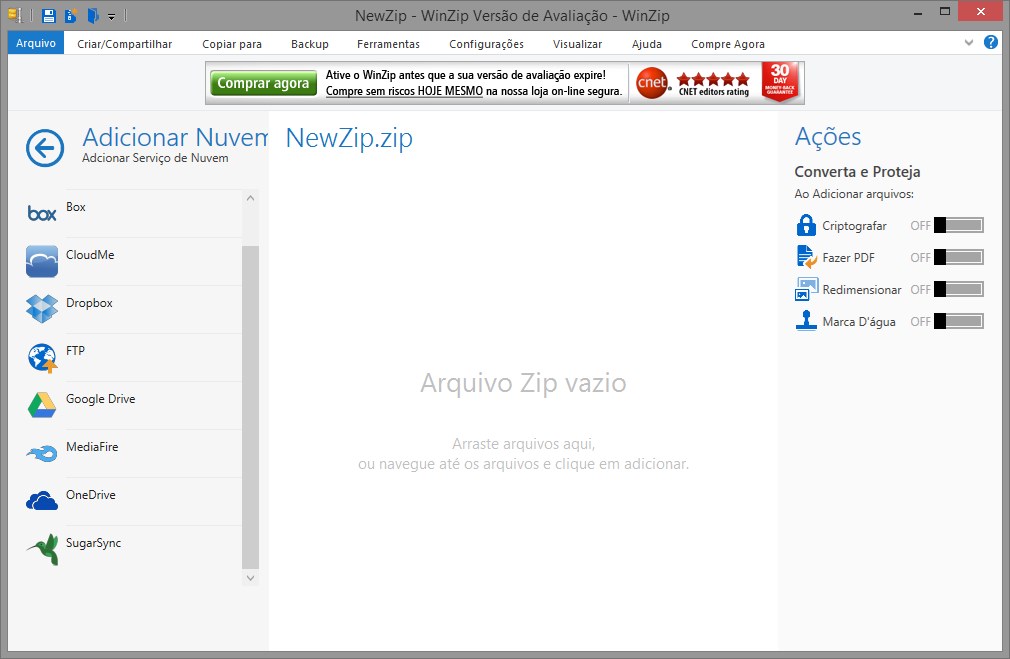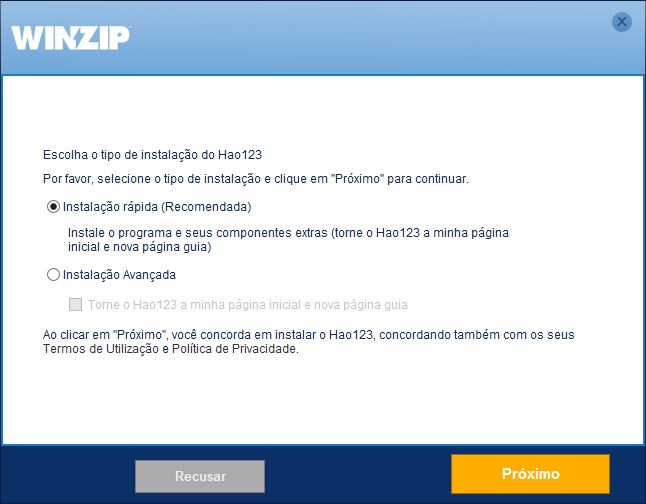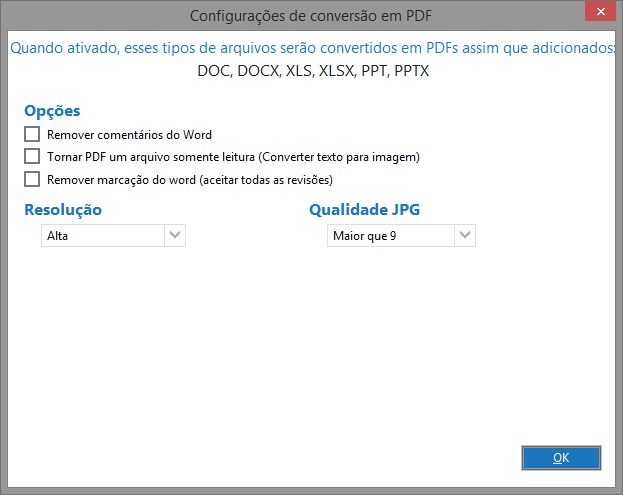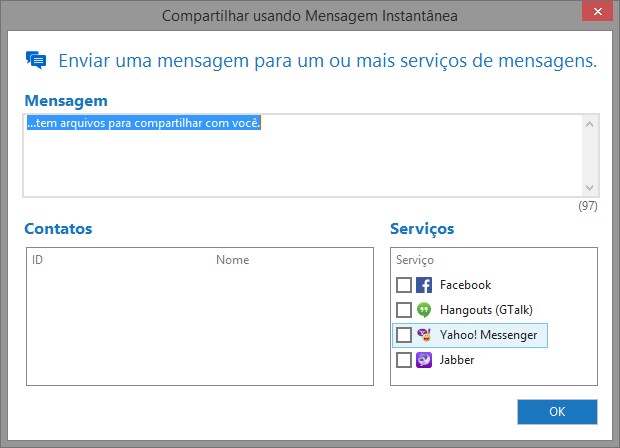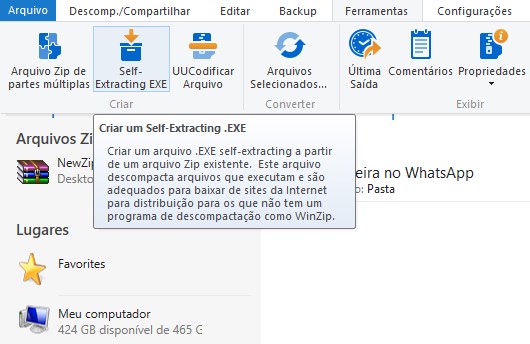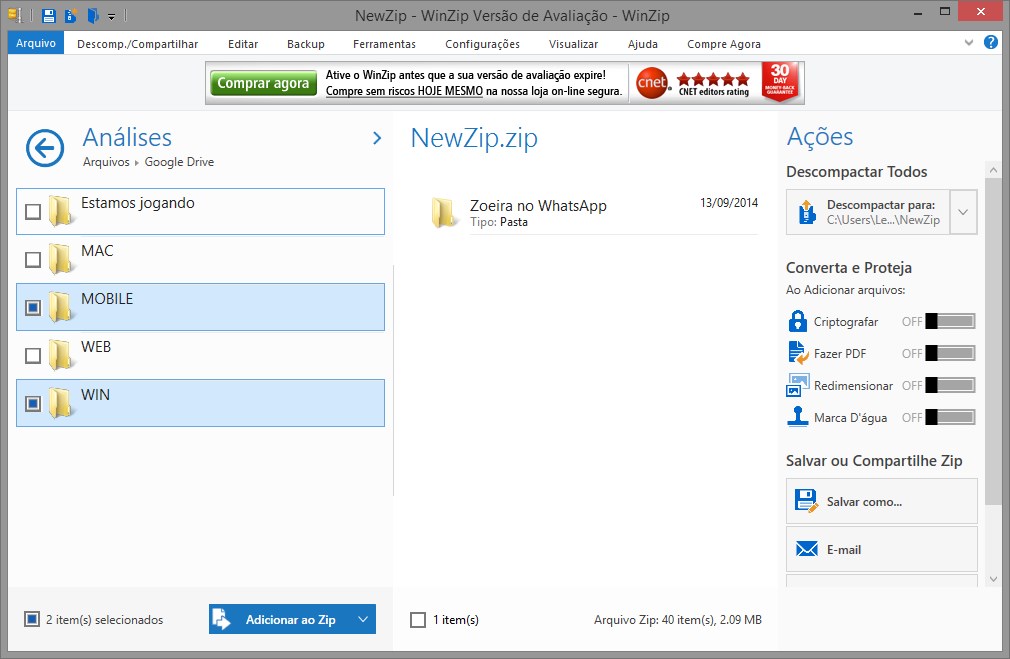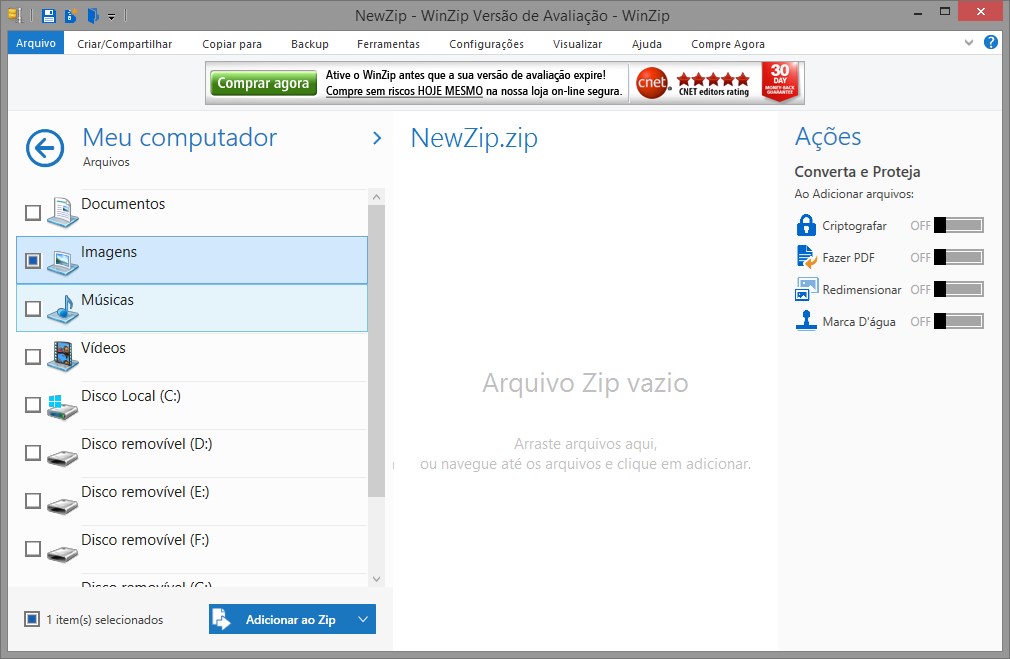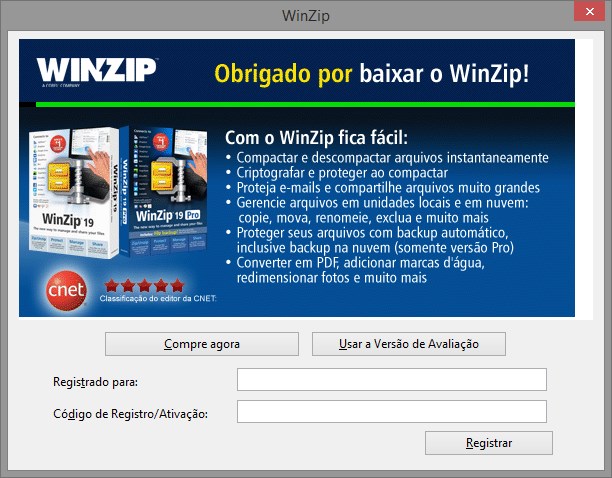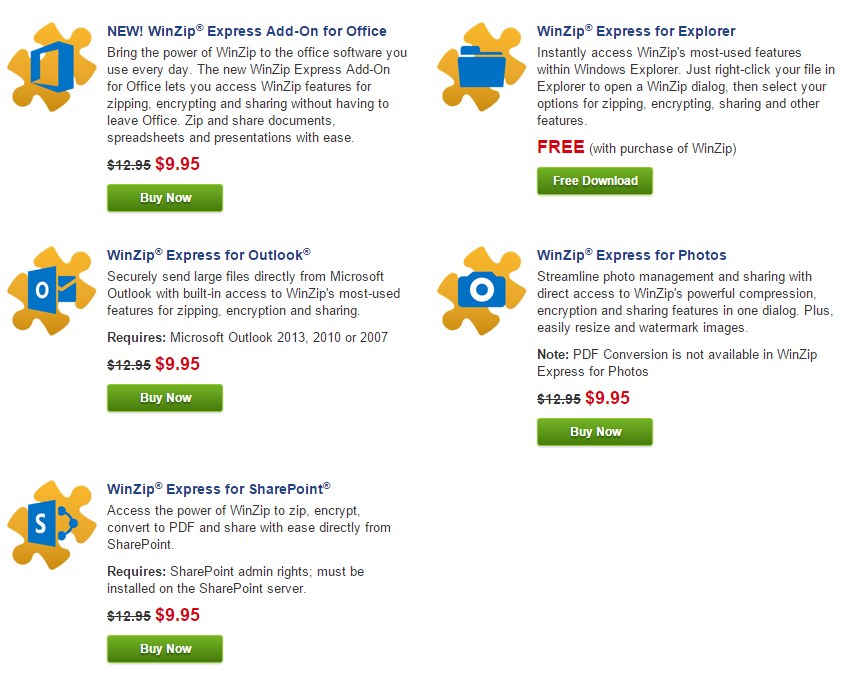 What are you talking about…
Description
The most complete compressed file manager on the market is new
WinZip is one of the best tools available for handling compressed files that you can find on the internet. The program has a multitude of different tools that facilitate folder compression and sharing of these elements. This version 19 integrates with various cloud storage services, email servers, instant messengers and even social networks.
Click here to check out the premium version of the software.
There are even options to make encryption of compressed files to very safe standards and others simpler. You can also convert all text documents in a folder to PDF, or resize all images in any directory to your liking. You can also insert watermarks into documents automatically.
Interface Organization
The new WinZip has a revamped interface that closely resembles Office 2013 and Windows Explorer from Windows 8.1. If you are used to these tools, you should not be surprised by this new skin of the program. Remember that it even has two interfaces: one optimized for use with mouse and keyboard and one made for PCs with touchscreens. If you have a hybrid PC, as soon as you switch from notebook to tablet format, WinZip also automatically switches interfaces.
Either way, the first option is the one you will use most often. There is a bar on the left side that concentrates all folders on your PC. Browse through them to select entire directories to compress into a file. Tagging is simple, and when you want to select a folder that is inside another, right-click it and choose "Open Files." Everything inside will be shown, allowing you to select item by item to form a new ZIP file.
The central area of the window is the part where you create the compressed items. You can drag documents to this location or select elements as described above. Once you've chosen everything you want to send to this zipped folder, tap "Add to Zip" at the bottom of the window. The procedure is very fast and when it finishes, WinZip shows some statistical data to the user.
In the "Actions" section, the right sidebar of the window, you will find a number of tools for customizing your "zipped" items. You can enable encryption, automatic conversion of text documents to PDF, image resizing, and watermark insertion. There is even a button called "Save As…" that allows you to save the created file where you want.
Rescue and integration with email and social networks
The "Email" option allows the user to synchronize servers like Gmail, Yahoo! Mail, Hotmail and Outlook.com to compose messages and attach zipped files with the program to send to anyone straight from there.
You can also send these items by messengers like Facebook Messenger , Hangouts , Yahoo! Messenger and Jabber . Finally, you can also share on social networks Facebook, LinkedIn and Twitter.
Cloud Integration
In the "Files" section of WinZip, you can synchronize your cloud storage accounts and create compressed files from the documents you keep saved on these services. You can use ZipShare , Box, CloudMe , Dropbox , FTP, MediaFire , OneDrive , SugarSync, and Google Drive .
Once you have synchronized, the service you choose appears in the section as if it were a traditional system folder. The difference is that when it comes to compressing from these sources, the program needs to download your chosen files.
Other possibilities
There are still a multitude of possibilities for using WinZip. At the top of the interface, it brings a lot of useful tools, such as backup functions, splitting compressed elements into several parts, and executable file compression. All of these can be used for free for a limited time.
Installation
Installing WinZip is not complicated, but we find it necessary to point to a situation that may be important to you. Early in the procedure, the installer offers third-party software that will be installed on your computer unless you perform two actions in a row.
When the "Choose Hao123 installation type" window appears, choose the "Advanced installation" option and uncheck the "Make Hao123 mine…" box. Do not click "Next" right away, as this will cause additional software to be installed anyway. To avoid this, tap Decline. Then you can follow the installation normally without worrying about anything else.
Our opinion about WinZip
WinZip is undoubtedly the most complete file compressor of today. The tool has a multitude of diverse functions to handle your documents. In addition, its interface is simple to use and brings the main features of the program organized right on the app's home screen.
One of the main highlights of WinZip is undoubtedly its ability to integrate with cloud services. You can sign in to your Google Drive, OneDrive, Dropbox and many others through the program and import the files present in these tools to compose your compressed folders.
Full integration
After creating these files, you can save the result to your PC or send it by email, messenger or share on social networks. WinZip has integration with Gmail, Hotmail, Outlook.com and Yahoo! Mail That is, you do the compression and send everything to your recipients through various means. You can save a lot of time this way.
The possibilities for automatic PDF conversion, image resizing, backup creation, partitioning of a compressed file and so on are other very attractive WinZip extras. That way, if you were looking for a really powerful file manager, this is undoubtedly one of the best options available today.
Pro & Cons
Pro
Variety of Functions

Integration with various cloud storage services

Integration with social networks, messengers and email

Auto Conversion Functions

Simple to use interface
Cons
We didn't find any negatives.