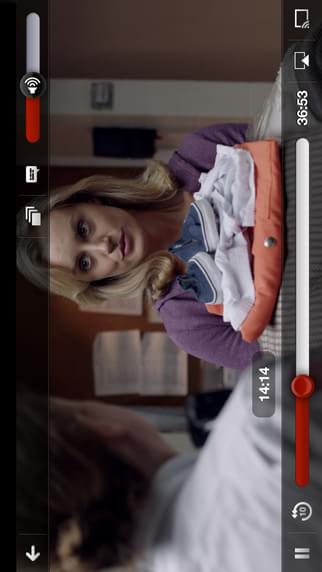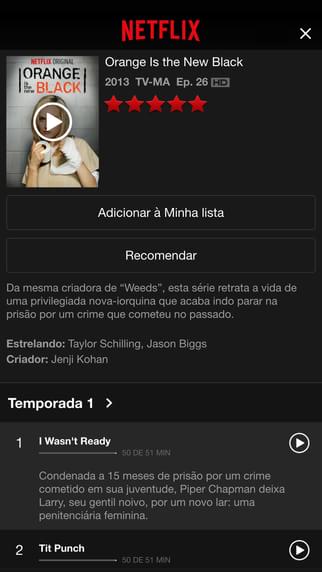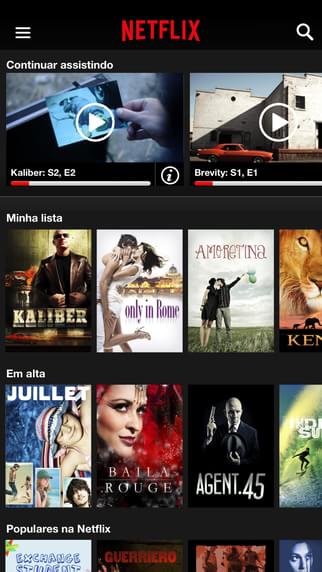 What are you talking about…
Description
Official service app that puts movies and shows on your iPhone
Netflix is a movie and series streaming service that brings a huge catalog full of titles of various ratings. For a small monthly fee, you can access these productions from any device, including iPhones and iPads.
The mobile app has just about every feature of the service in the browser: you can choose the user you're watching, browse selected content, view recent hits, set up your account, access series-specific episodes, and more. With a good 3G or WiFi connection, you can watch any content quickly.
Using the service
With the Netflix app, you will be able to search for titles through the program's various categories, such as "TV Series", "Comedies", "Dramas", "Independent Movies", "Family & Children's Movies" and more.
In addition, the program creates custom categories based on your preferences, such as: "Top 10", with a list of ten indications of what to watch; and the "Why You Watched" lists, which offer options similar to the movies and series you've seen on Netflix.
The app's home screen always seeks to display custom options. In addition to the options reported in the paragraph above, Netflix will also suggest categories based on what you have already watched, as well as displaying the movies and series you have not finished watching and your favorites list.
Warning: To download Netflix you need to have an account on the Argentine App Store. To learn how to create yours, read this article .
Our opinion about Netflix
The Netflix app for Windows 8 is one of the best customers of the video streaming service, especially after the latest updates. With beautiful looks, organized menus and smart features, you'll enjoy one of the best experiences with this entertainment tool.
Virtually all major browser service functions work on iOS as well: profile choice, last viewed titles viewed, account setup, recommendations, etc. That is, you can use Netflix in the normal way and watch everything you like most, as if you were using the site.
Perfect for touch screens
For starters, the program's navigation is extremely organized and fluid. You'll be able to see a variety of relevant and useful options on your home screen, such as your favorites list, the latest movies and shows you haven't finished watching, and various custom suggestions.
All of this is made easy to access with your fingers without many small buttons and details. The interface is focused on large lists and suggestions and all other menus are hidden. You can quickly search any title too, just use the search.
In addition, the program has a fantastic menu that can be easily accessed from any page, just slide the corner of the screen to the side. This field offers direct access to the top 10, new releases and all Netflix genres, giving the program agility and practicality.
Satisfactory usp experience
The pages of each show have very useful information such as year of production, number of seasons, special features (HD quality and Dolby Digital support), genre, creator and top stars, as in the browser.
Additionally, you can see a short synopsis of each episode and a progress bar that lets you see if the show has already been viewed and if it has been interrupted anywhere. You can also rate the video directly through this page to customize your preferences.
A very interesting feature of these pages is that some information is turned into searchable tags, such as genres, and the names of directors and actors. Another interesting detail is being able to change episodes without having to go back to the previous menu, for example.
Missing social functions
One of the biggest perceived absences in this app is social interaction. There is no connection to your Facebook friends as there are in other versions of Netflix, such as the web, Xbox, and even Wii versions.
This way you won't be able to see what your contacts are watching or your favorites. This is for sure one of the best Netflix tools that is missing in this version for iOS. Neither recommendations are shown; This content is limited to browser and game console access.
Worth it?
Undoubtedly, the Netflix app for iOS is worth it. It takes a fast internet connection, so it may be better to access it just using WiFi, but that's not a problem.
The entire Netflix catalog is available and you don't have to pay anything to access your account on a mobile device - just download, login and have fun with all the movies and shows available!
Pro & Cons
Pro
Easy to use

Full catalog

Look very well done

Allows you to change the user within the account
Cons
It could have social functions